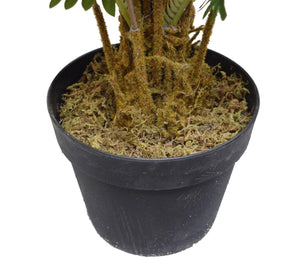 Deals499
Artificial Mountain Palm 90cm
Fake Small – Medium Mountain Palm
Features:
Our artificial Mountain Palm is a lovely tropical plant. The plant is a very accurate replica with carefully crafted fronds and a relatively slim leaf. This fake plant is a lovely shade of light-mid green with a few darker shades on the fronds. The replica palm comes with a standard black pot.
Quality
This fake Mountain Palm is made from a soft plastic. This is a very high quality replica with a good foliage covering. Each stem has wire running through the plastic which enables you to adjust and rearrange the stems accordingly
Where can I use this artificial Mountain Palm?
Our replica Mountain Palm is ideal for those areas of your home that will benefit from a touch of greenery. This plant is most commonly used in office environments, but would look equally as perfect in any room of your home. Also UV protected socan be planted outdoors.
Specifications:
Height – 90cm
Width – 60cm approx
Potted height in black starter pot 17cm W x 14cm H – 90cm
Package Content:
1 x Artificial Mountain Palm 90cm